Bragging Points
Carnegie Foundation announced that FSC is one of 119 U.S. colleges and universities to receive the 2020 Carnegie Community Engagement Classification, an elective designation indicating institutional commitment to community engagement. Farmingdale is the only SUNY school on Long Island to be honored in the Class of 2020.
The
Skyline Championships in 2019-20—baseball, softball, men's and women's outdoor track, women's soccer, and women's tennis. Two coaches were named Skyline Coach of the Year—Keith Osik for baseball and Adam Waterhouse twice for both men's and women's tennis.
Six teams won
LendEDU identified FSC as #1 among SUNY schools, in its fifth annual College Risk-Reward Indicator study. The College is also the top-rated New York public school on the list.
The American Society for Engineering Education identified the School of Engineering Technology as fourth in the nation in granting Engineering Technology undergraduate degrees. The School placed fifth in the U.S. for both undergraduate enrollment and undergraduate enrollment of women.
SUNY's Chancellor's Awards for Excellence were awarded to faculty members Dr. Jill O'Sullivan, Dr. Maureen Tsokris, Dr. Lori Goodstone, Professor Lou Scala, and adjuncts Kim Wild and Kathleen Hecht. Professional staff winners included Darleyne Mayers, Lauren Romer, and Cynthia Thomas, and University Police Officer Luis Llano.
Renewable Energy & Sustainability Center (RESC) won the 2019 Organization of the Year Award from the IEEE Long Island Section. The award was given for the outstanding seminars, conferences, and lectures presented by the RESC. Director of RESC, Professor Marjaneh Issapour, also won an award: the 2019 Excellence for Women in Technology Award, from Association of Technology, Management, and Applied Engineering.
The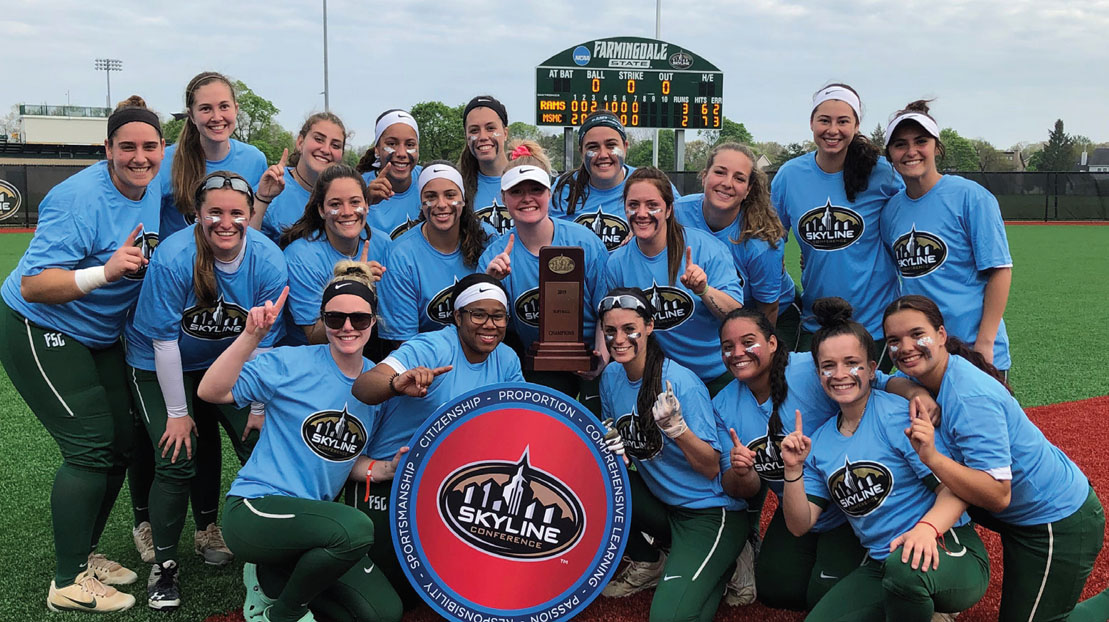 Dr. Cristina Casa-Levine, associate professor in the Dental Hygiene Department, was named American Dental Hygienists Educator of the Year. The award honors faculty members who provide high-quality education to dental hygiene students.
Farmingdale State College was honored for its commitment to effective urban forest management, with the 2019 Tree Campus USA® award, sponsored by the Arbor Day Foundation. The Tree Campus USA program honors colleges and universities for effective campus forest management, and for engaging staff and students in conservation goals.
CARES Awards—Commendation and Recognition for Exceptional Service— are presented annually, for exemplary work on behalf of the campus community. The most recent winners were Jon Goldstein, Director of Marketing and Chief Branding Officer, Office for Institutional Advancement; Frank Rampello, Assistant Dean of Students & Title IX Coordinator; Karen Gelles, Library Director, Greenley Library; and Barbara Kaplan, Payroll Assistant, Payroll Department.
one of country's top "green" colleges by The Princeton Review Guide to Green Colleges: 2019 Edition. Farmingdale was among 413 colleges chosen out of nearly 700 schools surveyed.
FSC was named
Forbes "Best Value Colleges" poll placed Farmingdale State College in the top 24% of the nearly 700 colleges and universities reviewed. Only 300 schools qualified to be ranked.
CollegeFactual.com, in its "Best Colleges for the Money" category, ranked FSC in the Top 20 out of 115 schools in New York State.
Anthony Ercolano, Anthony Porras, and Henry Zaradich, took the first prize at the SCUDEM IV (SIMIODE Challenge Using Differential Equations Modeling) competition held at CUNY City Tech.
FSC Applied Mathematics students