How the FSC Community Answered the Call
When the Coronavirus struck,
the FSC Community Came Together
When the call came, Farmingdale State College answered. And kept answering time after time even as the coronavirus outbreak restricted access to the campus to all but a few employees, forced classes into a distance-learning environment, and disrupted the lives and routines of our students. As the COVID-19 outbreak spread, so did the community outreach efforts of our students, faculty, staff, and alumni.
Here are just a few of their stories.
No Day at the Beach
Jorge Osorio is a member of FSC's Human Resources staff and a 2018 FSC graduate. He also serves in the U.S. Naval Reserves and volunteered to assist in the coronavirus fight in mid-March. He was sent to a testing site constructed at Jones Beach where he serves as a hospital corpsman in the role of a medic.
"̏My day basically consists of two shifts—a two-hour shift and a three-hour shift of testing patients for the coronavirus with a nasopharyngeal swab which can be quite uncomfortable for some people. The Navy has done a lot for me, so when the Militia reached out to me seeking Navy Corpsmen for assistance with the COVID-19 pandemic, I felt it was my duty to volunteer for the mission."
The duty is a far cry from his work in Human Resources, where he makes appointments, runs reports, enters directory changes, and assists with time & attendance. Jorge—who goes by George—is now studying for his Master's in Human Resources at Stony Brook University, a pursuit that will have to wait as he serves his country. In the meantime, he has been getting some new-found attention. As a result of his assignment, Jorge has been featured in interviews with national media, including CNN and MSNBC.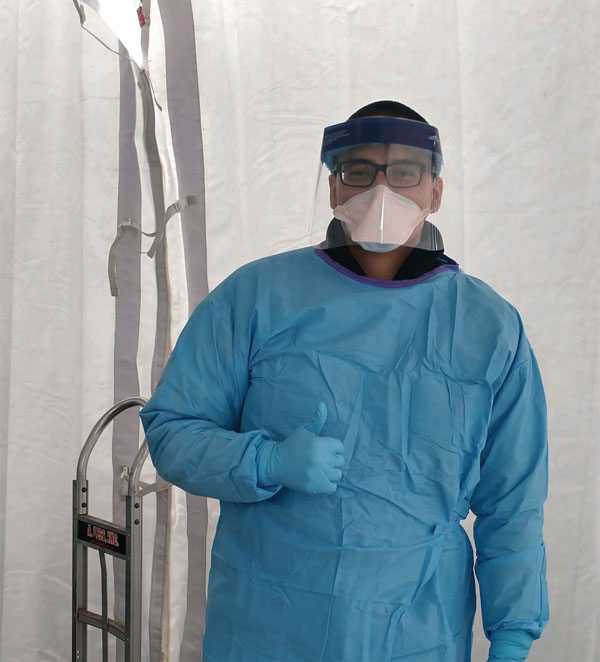 I joined the Reserves to take a break from college and to make my parents proud. I've been serving for more than five years now and it's been a great experience.
Fighting the
Good Fight
A number of FSC alumni from Medical Lab Science are frontline workers. They include Diana Sery ('16) who works in a local hospital.
"It is a spiritual and physical battle every day to make a difference in other people's lives."
"We have been given new PPEs and social distancing guidelines so we can all stay safe while at work. Working during COVID has been interesting, to say the least."
Jennifer Newins, an MLS 2018 graduate, works in a microbiology lab that is performing tests for the coronavirus.
Serving the Cause
—and Meals
Anthony Teets, an adjunct faculty member in both English and Professional Communications, is literally giving us all food for thought. He and his partner Scott Beutel own a delicatessen and have been regularly delivering meals to Huntington Hospital's emergency room, the Northport VA Hospital, and health care facilities within the Northwell Healthcare System, one of the state's largest medical care providers.
"Our business name is Scott's Vernon Valley Deli in East Northport. A few weeks before New York had reached its peak in cases, several of our employees decided to shelter at home and we supported their decisions. We found various ways to keep them working from home and receiving their pay. From the beginning of this crisis we have been delivering to the elderly in our community, and not just taking them food, but gathering their mail, taking out their trash, and talking to them on the phone when they are lonely."
As with many such efforts, many in the community stepped in to assist. The hospital food was donated by the Beaudet family, local patrons of the deli. The VA food was donated by another deli customer, Bren-Tronics Inc. in Commack.
"We know there will be others who are in need and will reach out to us. Sometimes I feel like an octopus with latex gloves and a surgical mask. I only wish I had more hands to help."
A Supply Chain Reaction
With his father and three of his cousins, all physicians in New York City hospitals working directly with COVID-19 patients, Science, Technology, & Society student Rohan Gulati felt the calling to help. "I asked my family what I could do and they said that they needed eyewear and mentioned that safety glasses that are used by college students would work."
So Rohan contacted the Biology Department. He found out there were supplies that were available used such as face shields and disposable surgical gowns. Once he got the supplies he was able to give them directly to doctors at the different hospitals. It turned out that Rohan's idea was shared by several academic programs at Farmingdale.
The Biology Department contributed 102 goggles and 426 lab coats that Rohan distributed to Coney Island Hospital, North Shore University Hospital in Manhasset, and Mount Sinai Hospital West and Mount Sinai Hospital Morningside in New York City.
The Departments of Nursing, Medical Lab Science and Dental Hygiene, along with the custodial staff and the LIEOC, contributed 720 isolation gowns, 261 boxes of protective gloves, 400 face masks, 275 face shields, 50 face masks, 24 boxes of alcohol wipes, and 47 safety goggles. The items were used by the medical staffs at Northwell Hospitals at Plainview and Syosset. And Athletics donated gloves and masks from its training room stock to University Police.
"When I gave a doctor some PPEs, he said 'Thank you so much. You're helping save lives.' That's when it really hit me. I want to go into the health care field so I just wanted to do what I could during these times and didn't think much of it. But when he, as a doctor, said that, it really opened my eyes to the impact of what I was doing and how it was really helping."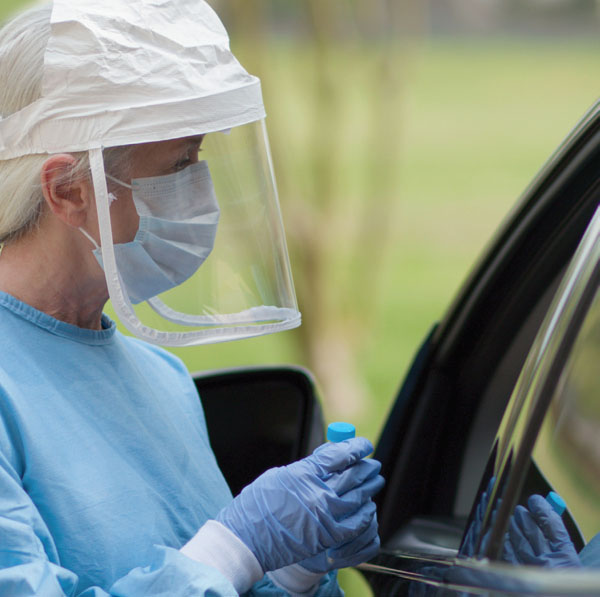 While I am not with these patients all day, I find that I have gotten to know them. Most of the patients I have dealt with are intubated, do not know who I am, but I feel a connection to them. I see the pictures the nurses have placed of them and their families and the cards that were sent to them and really get an insight into their life. I always get a little worried when going into ICU or CCU and do not see the same patients I have been seeing all week. I try to ask the nurses the outcomes of certain patients and sometimes they have been extubated and moved to a lower acuity floor. Seeing so many patients in this condition, seeing the entire hospital turn into an ICU is something I will remember forever.
Catherine Sweeney, Nursing student
"Healthcare professionals take care of the community during this unprecedented pandemic, so what we can do is to take care of them."
Dr. Xu Zhang
Paying It Forward—11,000 Miles
When the pandemic was declared, the news hit home for Dr. Xu Zhang, chair of the Economics Department. That's because home is China, where the coronavirus started. "From the heartbreaking stories of death tolls, I learned how serious the pandemic could be and how vital it is to have PPEs, especially for health care workers who are fighting on the front lines."
A graduate of Xiamen University in Fujian, she joined with the American chapter of her alumni association to coordinate the distribution of PPE's to New York Community Hospital, St. Francis Hospital, Children's Hospital, Jamaica Hospital, Flushing Hospital and other hospitals in Brooklyn, Bronx and New Jersey. By reaching out to the hospital employees in charge of donations, she was able to identify other needs as well, coordinating delivery of goggles, isolation gowns and n95 masks. She is also working with nursing homes on Long Island.
1,500 medical supplies distributed to hospitals.
700 laptops and tablets were ordered for students and faculty.
$75,000 donated to support students in need.
Going Mobile
When the first crisis hit, the campus Emergency Management Team was convened for lengthy twice-daily conference calls to cope with a variety of complicated issues, all the time having to keep the safety of students, faculty, and staff in mind. So while classes moved to a distance learning format, many administrative issues still needed tackling—all with the team working remotely.
The Health and Wellness Center responded with extraordinary patience in answering inquiries. Institutional Advancement spearheaded communications to the campus and regularly updated the website with critical information.
Intermittent package delivery played havoc with the effort by Information Technology to mail laptops and tablets to students—over 700 were eventually ordered. The Facilities staff vigorously sanitized public spaces and bathrooms to keep the campus safe and even assisted SUNY Purchase with the cleansing of its campus. Everything possible had to be done, President Nader said, to preserve the academic mission.
"Our campus went to extraordinary lengths to eliminate barriers to student success. These include lending computers to students to allow remote work, expanding and extending the hours of our technology support, housing students with special needs, delivering virtual labs, easing financial burdens, and allowing remote registration. And we did it all within two to three weeks."
And That's Not All
In other efforts, the College staff went well beyond the call of duty, delivering food to the residence halls for international students who couldn't fly home because of airline cancellations.
The College's award-winning Small Business Development Center is working with more than 200 small business owners to assist them with the Economic Injury Disaster Loan and the Paycheck Protection Program to help them recover from the economic impact of COVID-19. The Helpdesk answered hundreds of requests for technical assistance. Admissions and Transfer Services personnel responded to telephone inquiries around the clock, from their homes.
FSC has granted permission to SUNY College at Old Westbury to use our facilities for the upcoming Fall, Winter and Spring sports seasons as they turned over their campus for use as a mobile hospital. And the College Foundation established an emergency fund to assist FSC students in need. In the first week of the effort, about $75,000 was raised—including a $50,000 donation by Tortora-Sillcox Foundation.
I have watched a man take his final breath as we pulled his stretcher in from the hallway after transport from the ED with no way to bring him back. I have helped to treat critically ill patients in their 20s and patients over 100 years of age who barely showed signs of a cough. I have learned from nurses across many different specialties such as critical care and palliative care who came together to treat the same patients and have shown me how to not only treat in order to cure but also to treat in order to comfort, often pointing to specific patients and exclaiming, 'This is a dying patient, we do not abandon them as a lost cause. We care for them until the end.'
Elizabeth Brannon, Nursing student
Epilogue
The pandemic isn't over. And its effect continues to ripple and disrupt plans—Spring Commencement (postponed), Summer classes (early sessions moved online), and the April Open House to recruit high school and transfer students (transformed into a virtual experience), to name a few. But through it all, the message has remained unchanged for students, faculty, and staff.
Be well. Stay safe.