In conversations about the Class of 2022, one word resonated: resilient.
The COVID-19 pandemic shut down FSC and the world in March 2020, forcing students to take classes online for three semesters and to find innovative ways to complete projects, labs, and hands-on work.
During the College's commencement, speakers praised the students' resiliency and flexibility during the worst of the pandemic. "To all of our graduates today we say: you have succeeded during the most difficult time in the modern history of higher education," said President Dr. John S. Nader. "Your stories and experiences exemplify the very best that public higher education has to offer. Perhaps no group of students has ever displayed such persistence and perseverance on the path to their degrees."
The Class of 2022 should be entitled to put front-and-center on their resumes. "I made it through 2020. Enough said," joked actor Rushi Kota, '09, the keynote speaker. "You should all give yourselves a huge round of applause for being the most versatile generation, who so quickly were able to adapt to a landscape so drastically different from what you signed up for."
"To all of our graduates today we say: you have succeeded during the most difficult time in the modern history of higher education"
President John S. Nader
Still, those life lessons were hard to appreciate while living through them. Delmy Santos Vigil of Brentwood, a Bioscience major and SUNY Chancellor's Award winner, plans to attend medical school. Santos Vigil had to do her assignments while supervising three younger siblings doing schoolwork online. "I had to be a better advocate for myself. I had to do more reaching out and attend more online office hours because we were lacking face-to-face interactions."
Dean Dr. Barbara Christe put it best: "I saw a big improvement in collaboration and teamwork, especially with the capstone [final] project," she said. "They learned about getting information remotely. The group work experience was so different, but they still have a highly employable skill set valued by employers."
Congratulations to the Class of 2022! You overcame the stress, uncertainty, and isolation, persisted, and left school with new skills, ready to work in person or remotely and pivot when necessary.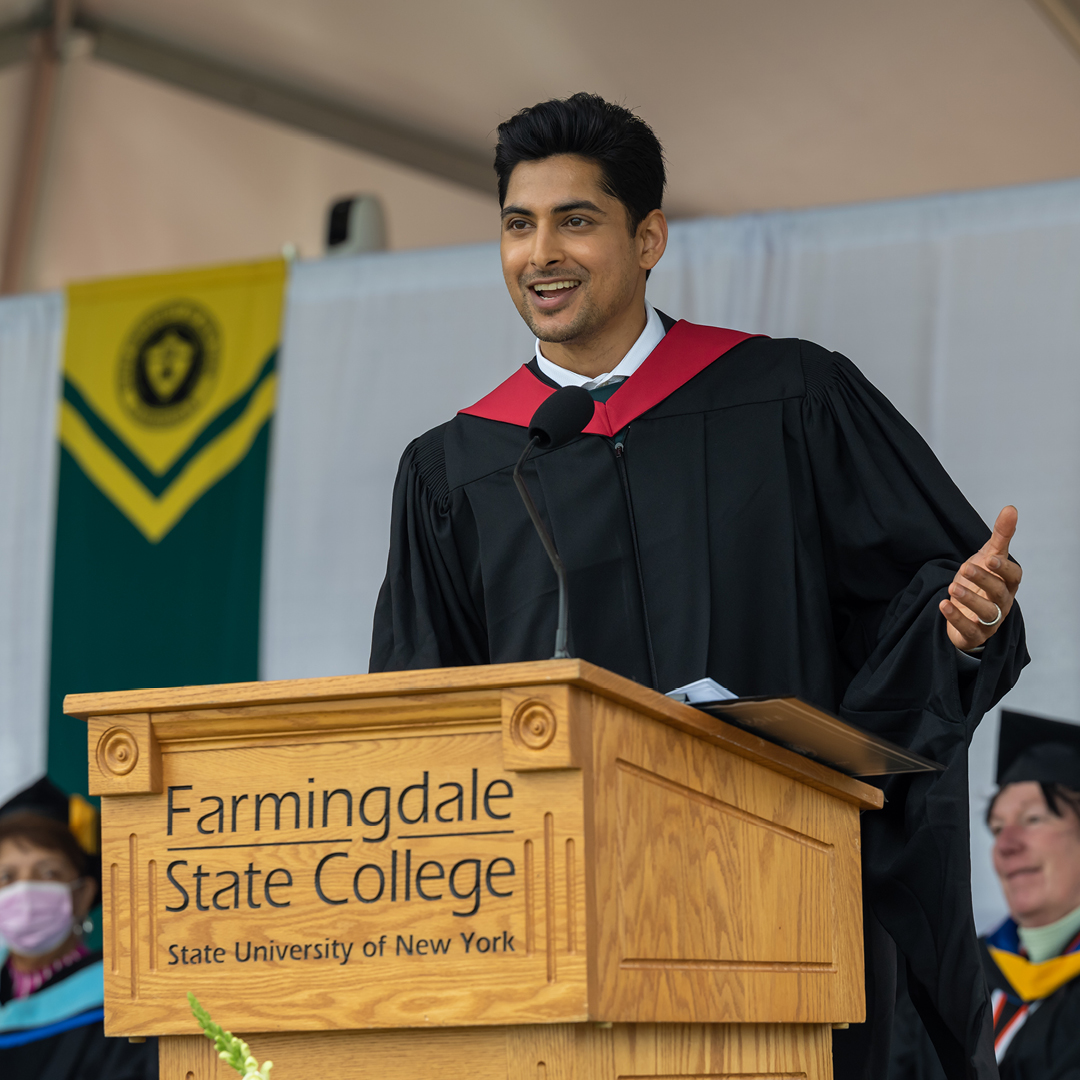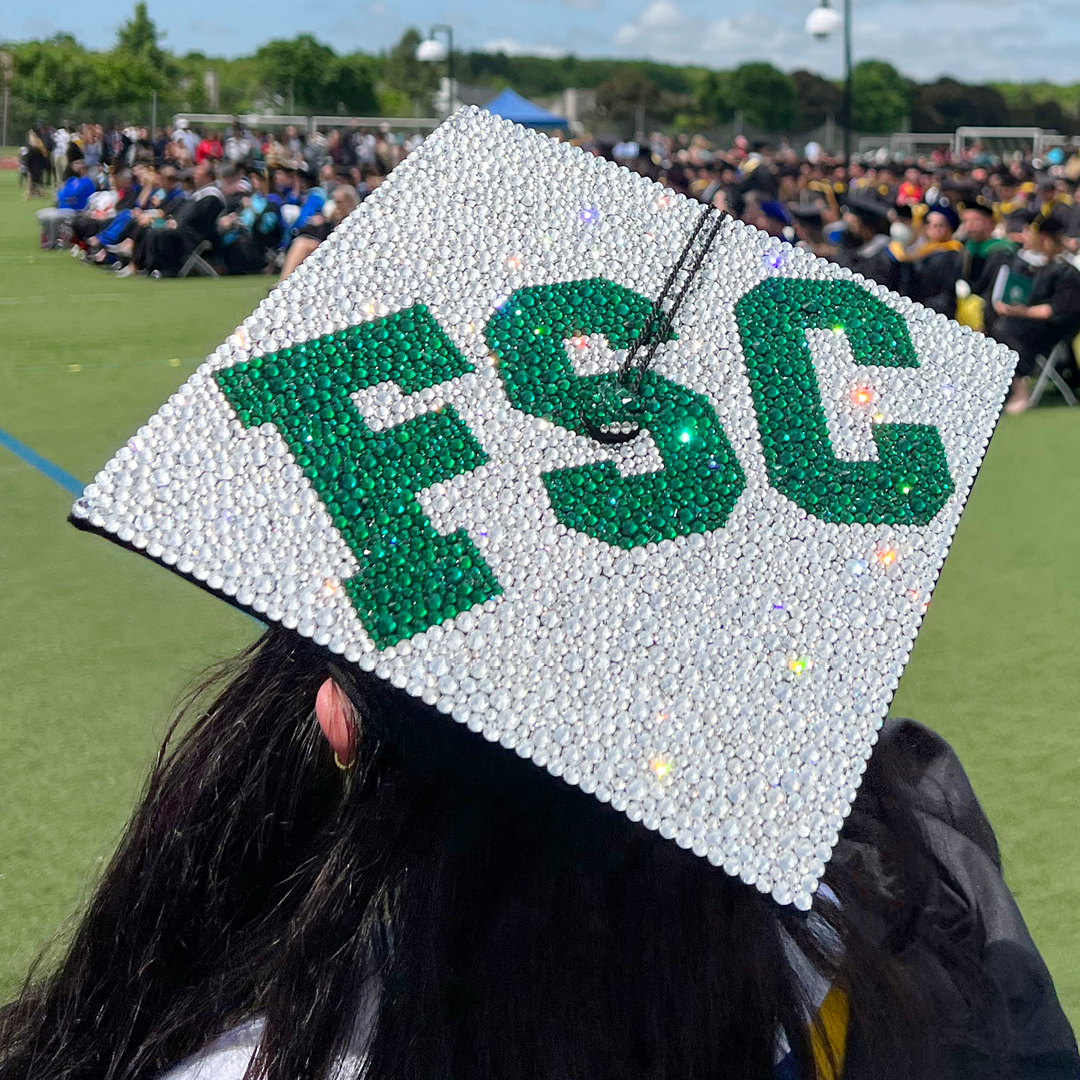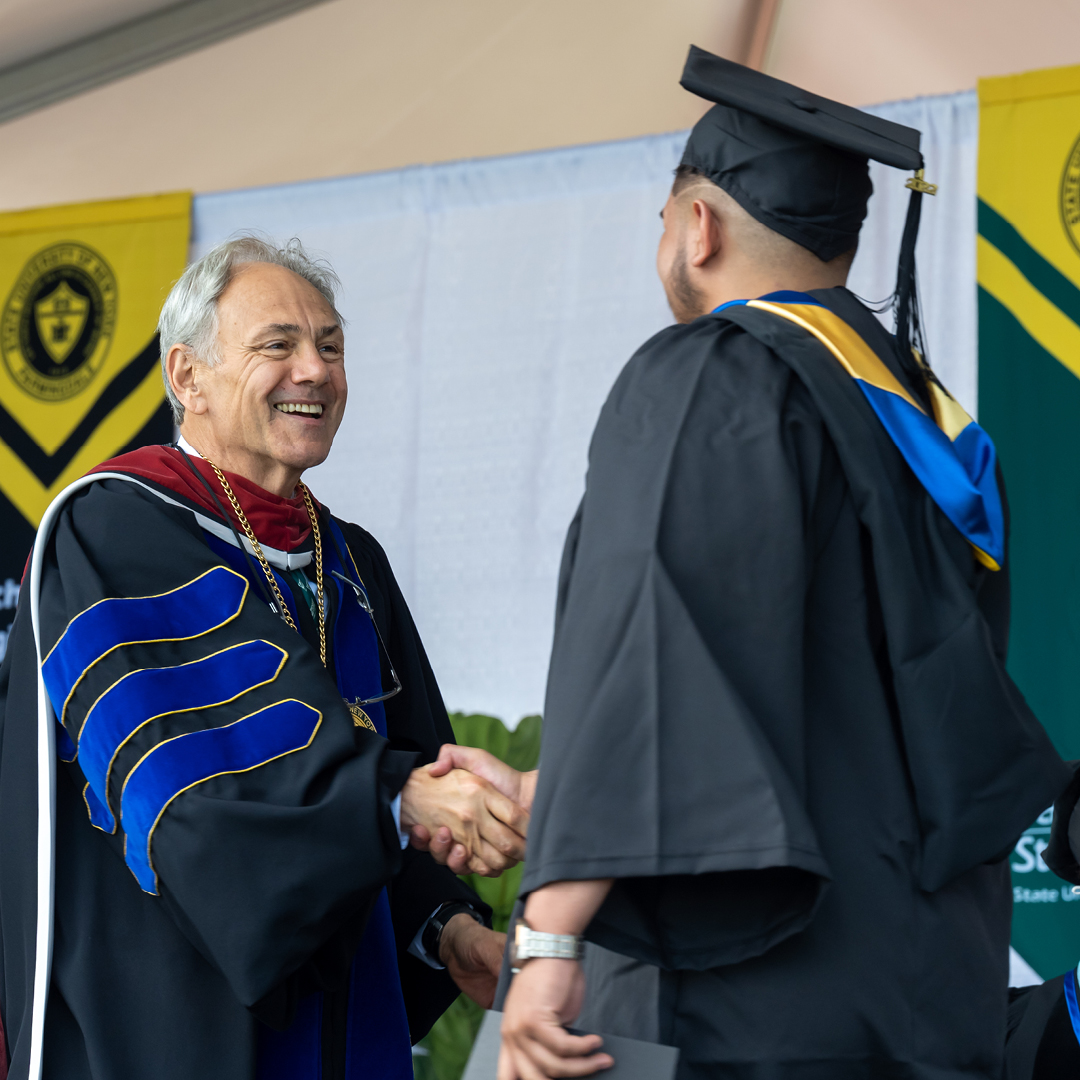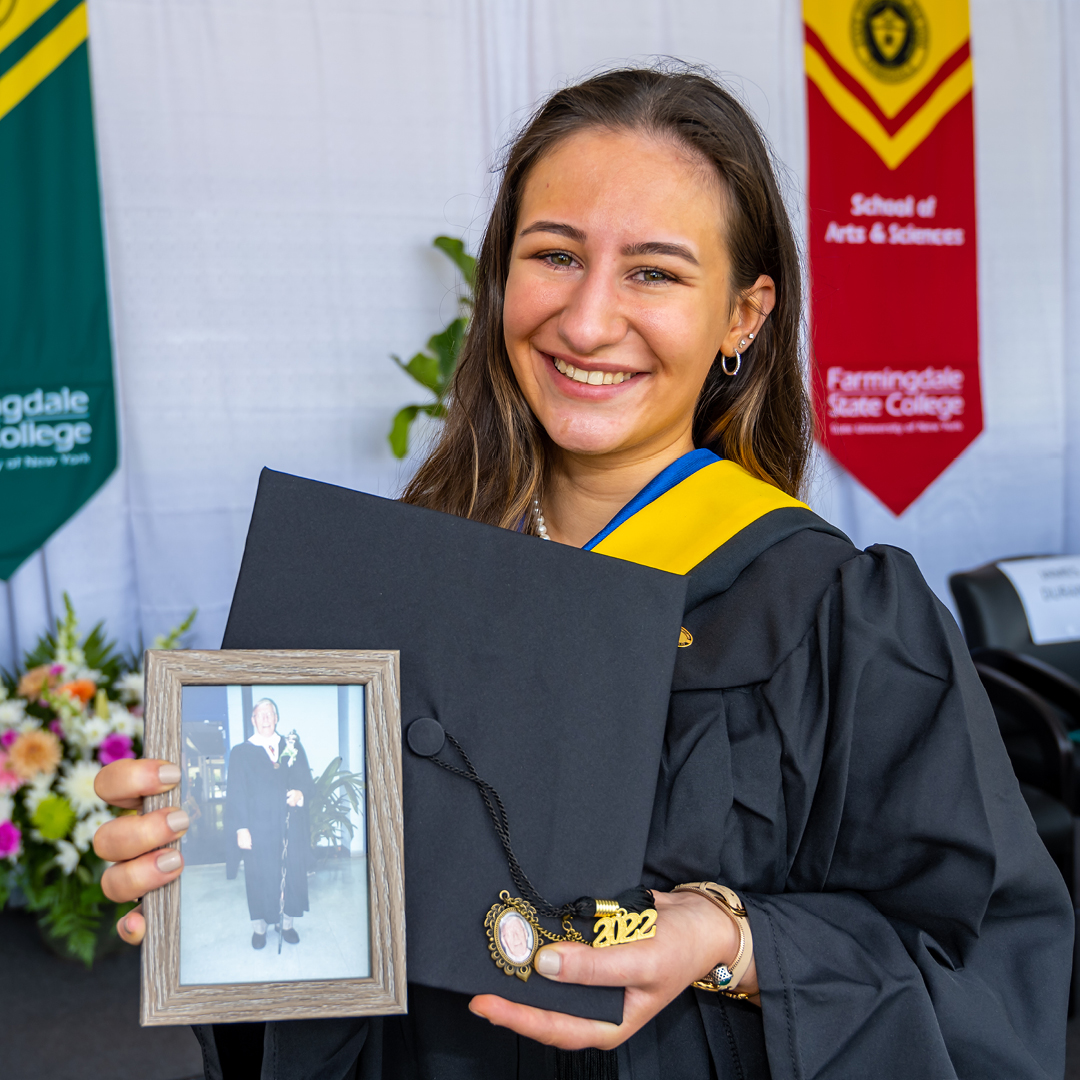 The Commencement Baby
Gabriella Cordi '22 Crosses the Stage
Ever since Gabriella Cordi arrived on campus four years ago, she was known to many as the "commencement baby."
That's because Cordi, a Farmingdale resident and member of the Farmingdale State College Class of 2022, was born during the 2000 graduation ceremony on May 21, at which her grandfather was the grand marshal and her grandmother was accompanying honorary degree recipients.
"It was such an exciting day; we were pulled in multiple directions," said retired English professor Cornelius (Neil) McAdorey, Cordi's grandfather.
Cordi's mother, Victoria, was familiar to many of the faculty. "The buzz in the robing room was that Vicki was in labor," joked Margaret McAdorey, Cordi's grandmother, who attended FSC and later worked in the provost's office.
The faculty kept mouthing during the ceremony, "Any news?" Margaret McAdorey said. She was getting news via cell phone and signaling to her husband with a thumbs down when there were no updates. Finally, she flashed a thumbs up: It's a girl!
"Some professors said my grandmother came running up the aisle saying my mother was in labor," according to Gabriella Cordi.
Gabriella Cordi is the third generation of her family to attend FSC. She majored in Science, Technology, and Society and will attend an accelerated dual nursing program at Molloy College, with the goal of becoming a nurse practitioner.
"She set her goals, met them, and now is moving on," noted Margaret McAdorey.