Alumni Spotlight
Meet Arthur Corwin
Underground construction problem solver Art Corwin believes in giving back.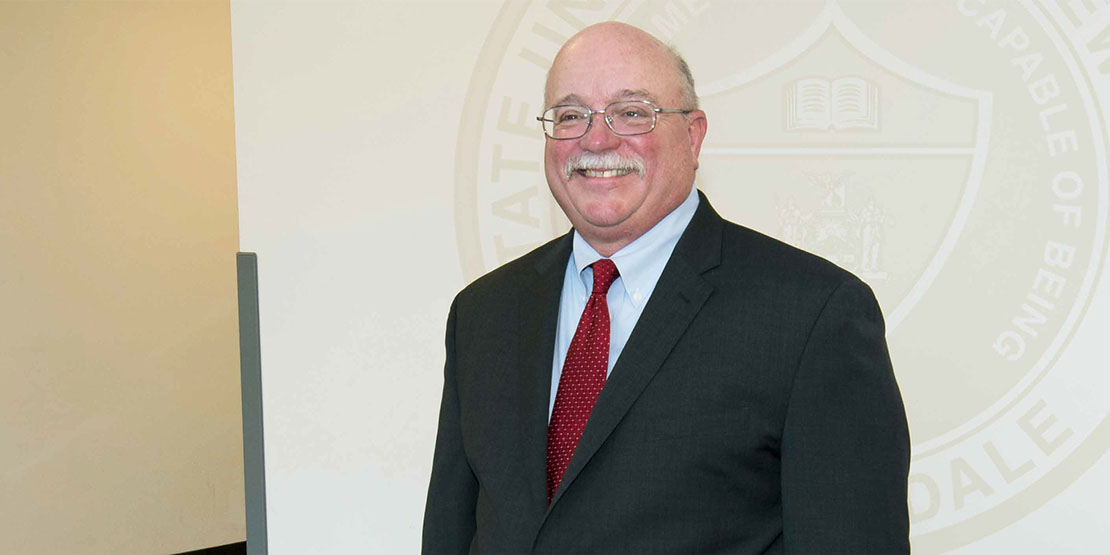 Arthur Corwin's aspiration to become an architect did not have the beginning he was looking for. "You cannot draw to save your life; you are not an architect, you are an engineer," Corwin remembered his professor telling him. It turned out to be a turning point in his life.
Corwin, Class of '76, was enrolled in the Construction Technology program at what then was known as the Agricultural and Technical College at Farmingdale. It was his dream to one day be an architect—until being led in a new direction.
After earning his associate degree at Farmingdale, Corwin went on to earn a bachelor's degree in civil engineering. His first job came quickly, taking a position as a staff engineer at Moretrench, the company which he now leads as President and CEO.
Moretrench is a 100-plus year-old company that does what Corwin describes as "solving problems in underground construction." The company is famously known for pumping more than 250 million gallons of Hurricane Sandy water out from under New York City.
"I was fortunate when I started at Moretrench to get involved in some significant projects early on where I reported directly to the CEO, Bob Lenz, and the Chief Engineer. I wasn't aware of it, but I was being groomed to be the CEO. Lenz made it possible for me to move up the ranks."
And knowing that Farmingdale prepared him for his career, Art has given back plenty. The Corwin Family Foundation is funding $25,000 in scholarships in $5,000 increments over the next five years. He is doing this, he said, "because Farmingdale is the place that got me started."
In 2015, Farmingdale named him Alumnus of the Year, and in 2016, he was the recipient of the most prestigious award in the construction industry, The Moles Member Award. In a parallel life he serves in an organization called Homeless Solutions, which he learned about through an ad in his church bulletin. The shelter needed volunteers to prepare and serve meals, and Corwin answered the call. At his first time helping out, Corwin said, he was hooked on serving others.
"When I volunteer at the shelter I am in a room full of just people. They have no idea I am the CEO of a company. I am just a volunteer in the kitchen."
All these years later, Corwin still credits Farmingdale with putting him on the career path for which he was most suited.
"The professors at Farmingdale were more teachers than professors, and I mean that in a good way," he said. "They did not just lecture and hand out homework assignments. They worked with students to solve problems and make sure we understood them. I believe I got plenty out of my two years at Farmingdale."
For Corwin, who has engineered hundreds of construction projects, Farmingdale provided the foundation.