Partnerships
Farmingdale Students Add an Extra Dimension
D3 is thrilled with the more than 30 FSC graduates who have been hired and is making sure there are more in the pipeline.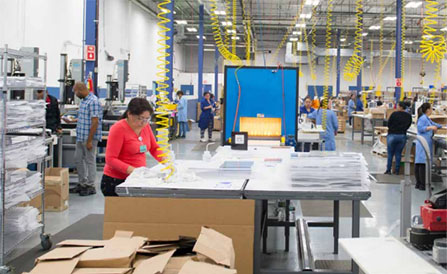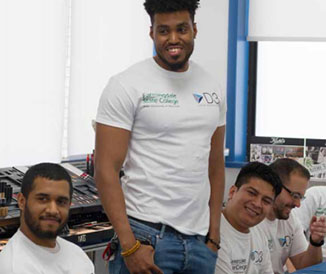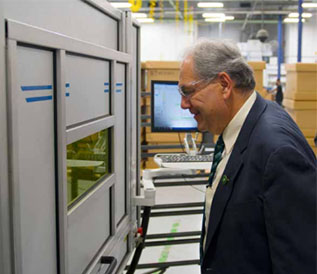 Farmingdale students are not only smart and well-equipped for the workplace—in fact, they are three dimensional.
That's the result of a partnership between the College and D3 LLC, which to date has 34 highly skilled School of Engineering Technology and School of Business graduates among its growing number of employees. In return for this pipeline of exceptional talent, D3 has donated a 3D printer to provide high-tech training to Mechanical Engineering Technology majors soon to enter the workforce.
D3, which is based just up the road from the College, designs and engineers LED displays and lighting for in-store marketing, creating these environments for brands such as Chanel and Sephora at their point of sale.
"With more up-to-date equipment on hand in their labs, students can become more efficient and bring those methodologies to our organization," said Diane Gariti, D3's Human Resources Manager. "The hands-on experience will be vital to the success of our projects, as well as the student's future."
"The value of 3D printing is that it gives our students a competitive edge over other graduates from competing institutions," said Dr. Hazem Tawfik, Co-Chair of the Department of Mechanical Engineering Technology. "This is the advantage of collaborating with industry."
Adds Farmingdale President Dr. John S. Nader, a strong advocate of applied learning: "D3 is a cutting-edge firm and industry leader that is flourishing in our backyard. The fact that they employ more than two dozen Farmingdale graduates underscores the relevance of our programs and our importance to the Long Island economy."
The printer is located in the Institute for Research and Technology Transfer in Lupton Hall, and will be used in Computer Aided Drafting and Design classes.
"Students will be able to create 3D models of class projects using CAD software," said Dr. Jeff Hung, a professor in Mechanical Engineering Technology. "An example of a class project is the design and fabrication of fidget spinners," a toy not unlike a yo-yo or other skill toys, designed to spin with little effort.
One of Dr. Hung's students, Jeshurun Colon, is convinced that working with the printer will accelerate his dream of becoming an engineer.
"As a kid I always wanted to create parts or different models to make things better. With the 3D printer, I can use it to help my growth as a creator and an engineer."
D3's collaboration with FSC began in 2015, when Dr. Hung brought several students to D3 for a senior project. He was pleasantly surprised when the students were offered jobs. For D3—which had hired its first Farmingdale alumnus in 2012—Farmingdale students were so well prepared that it was a no-brainer bringing them into the fold.
"I knew, with the mentorship of the D3 team, that students could bring creative, innovative ideas while solving real-life business challenges," Gariti says. "That is exactly what happened.
"From the start of our collaboration, it was apparent that alumni from Farmingdale State College brought with them knowledge and skills that translate perfectly to our industry."
Louis Dupere, D3's CEO of the Americas, comments on the company using FSC as a go-to place for new, well-trained employees: "This has developed into a very valuable relationship, where students get the opportunity to use their creativity and skills at a forward-thinking organization. It's truly a win-win partnership."
The opening of the Nexus Center for Applied Learning signals an ever deeper commitment to providing practical experience to students and to further engage corporations on Long Island—as D3 has already experienced. In an extraordinary act of generosity and gratitude for a thriving partnership, the company recently established The D3 Scholars Program with a major contribution to the Farmingdale College Foundation. The donation offers both the company and the College an opportunity to expand a mutually beneficial relationship.
The D3 Scholars Program will award annual scholarships for tuition, fees, books and related expenses to students that meet the criteria. To celebrate the alliance, D3 Scholars will attend an annual luncheon hosted by President Nader and the company leadership.
"D3 has been a great partner with Farmingdale," said Nancy Connors, Vice President for Development and Alumni Engagement. "Its support of the College is meaningful for our students and their development as future employees who contribute to regional businesses and the communities they serve."