Partnerships
Taking a Schien to Our Students
Through events such as Give Kids A Smile, Henry Schein helps FSC's Dental Hygiene students improve the community's oral health.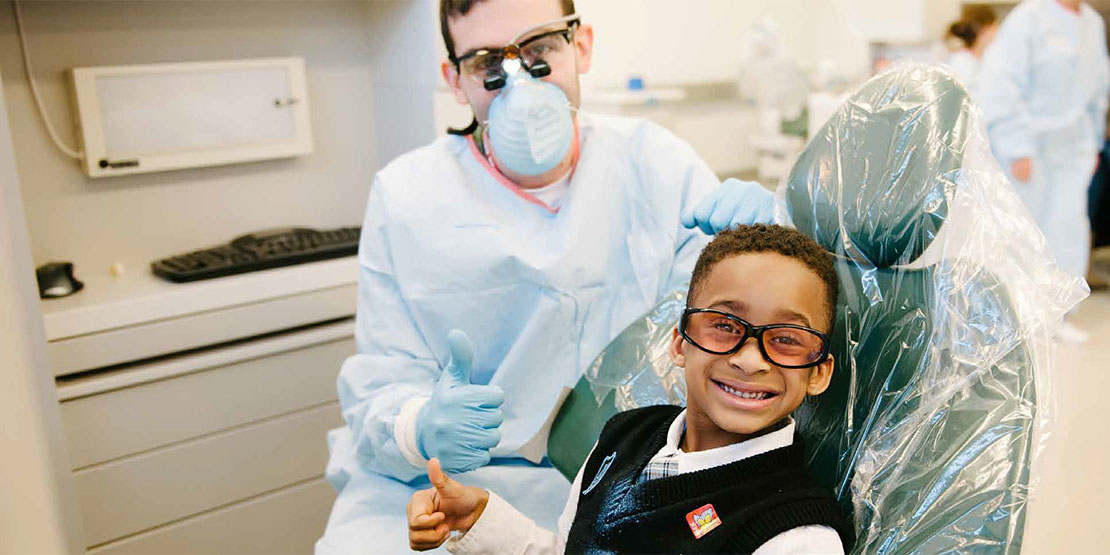 Once every February kids and their parents flock to the Dental Hygiene Care Center at Farmingdale. The event is Give Kids a Smile day, and the attraction is free dental education and care provided by the College's dental-hygienists-in-training. It's a big deal for the families, and the highlight of the semester for our students. One student excited to have participated in the event is Michelle Lopez.
"Give Kids a Smile was a great event for kids who have never been to the dentist before," she said. "It was the perfect way to teach them how to brush their teeth and to show them visiting the dentist is fun and not so bad after all."
Dr. Lynn Marsh, who coordinates the event, emphasized that Give Kids a Smile is, in its own way, just as significant an event for her students.
"Give Kids a Smile provides a service-learning experience that incorporates valuable community service, education and reflection to enrich the learning experience and demonstrate social responsibility to our dental hygiene students."
Of course, there's always someone at work behind the scenes at such programs, and in this case it's Henry Schein, Inc., one of the world's largest providers of oral and health care products and services to office-based practitioners. This health-care giant is the event's biggest booster, providing all the supplies necessary for student hygienists to give back to the Long Island community.
"We at Henry Schein are proud to support Farmingdale State College's faculty and students in their efforts to provide free oral health care to local children in need as part of the Give Kids a Smile program," said Maureen Knott, Vice President, Product Advertising and Marketing for Henry Schein and a member of the Farmingdale College Foundation's Board of Directors.
"Poor oral health is a silent epidemic affecting millions of children across the country, and it is incredibly rewarding for us to play a role in supporting FSC faculty and staff as they help set these kids on the path to a life of good oral health."
No one knows the value of good oral health more than Stanley M. Bergman, Henry Schein's Chairman of the Board and Chief Executive Officer, and recipient of an Honorary Doctor of Science degree at Farmingdale's Spring 2017 Commencement. Bergman oversees more than 21,000 employees, and operations and affiliates in 33 countries. Under his leadership, Fortune magazine named Henry Schein one of the World's Most Admired Companies and it has been recognized by the Ethisphere Institute as one of the World's Most Ethical Companies.
At Commencement, Bergman—truly humbled by his honorary degree—expressed 10 life lessons he has learned, beginning when he was a child growing up in South Africa. Among them were: play to win, treat everyone with respect, the way you would like to be treated; think globally; act with enlightened self-interest; and no dream is too big, especially for Americans.
In other words, as Farmingdale says, "Reach Higher." Farmingdale Dental Hygiene students could not ask for a better mentor, and the College could not find a more beneficent benefactor.
It is an excellent strategic partnership between Farmingdale and Henry Schein, Inc. And it affects everyone from hundreds of Schein employees who have received free dental screenings from Farmingdale faculty and students, to those same students who have benefited from scholarships, internships and job opportunities.
We at Henry Schein are proud to support Farmingdale State College's faculty and students in their efforts to provide free oral health care to local children in need as part of the 'Give Kids A Smile' program.