Farmingdale State College
Dr. Nader Lays Out a Bold Vision at Inauguration
Committed to providing excellent instruction to students, President Nader is FSC's energetic ninth president.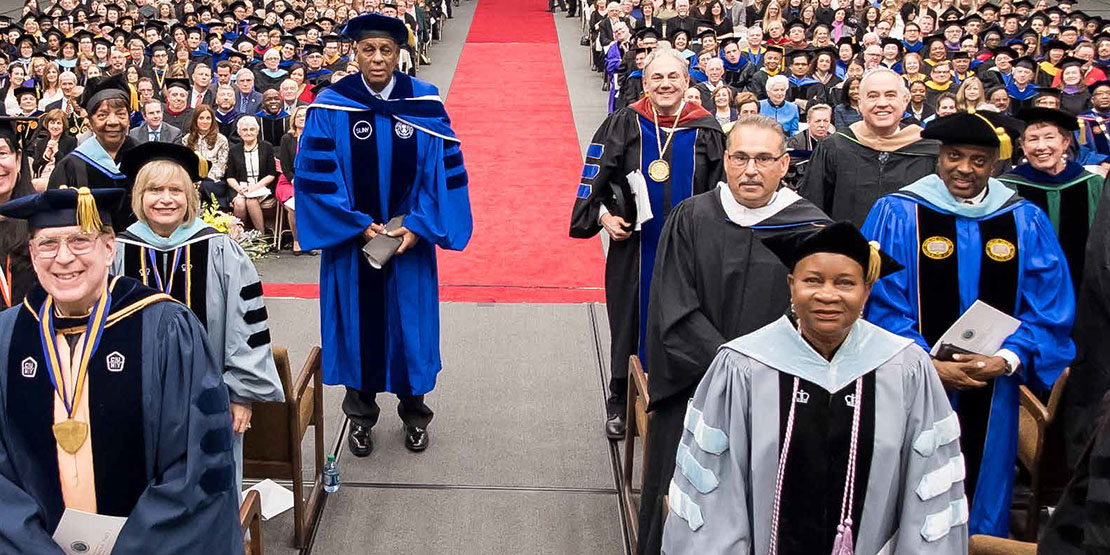 When John S. Nader was named Farmingdale State College's ninth President, it was evident from the beginning that he possessed an unshakable attention to detail. No chipped wedge of brick went unnoticed. No wall with a comb of scratches went unpainted. A microscopic tear in the American flag rippling in the wind outside Horton Hall? Let's get to it.
But what really made an impact on the campus was Dr. Nader's commitment to listening to faculty and staff, his caffeine-fueled level of energy, and a boundless enthusiasm for a college that had so much to brag about. That's when his personal philosophy was adopted for a year-long theme that culminated with his official inauguration in March 2017: "Powered by Optimism."
"I am, by nature, an optimistic person," Dr. Nader said. "I like to see possibilities, what can be achieved. I like to convey that in everything I do and think about."
That approach was a hallmark of the ceremony in the Nold Athletic Complex attended by hundreds of faculty, staff, and special guests, including U.S. Senator Charles E. Schumer, SUNY Chairman H. Carl McCall, New York State Comptroller Thomas DiNapoli, former Farmingdale Presidents W. Hubert Keen and Frank Cipriani, members of the College Council, and officers of the Farmingdale College Foundation and Alumni Board. Even with the traditional pomp and circumstance, Dr. Nader's unbridled passion beamed through, as it did the night before where he was a featured speaker at the Alumni Awards Dinner.
And, as always, his commitment to students—to providing excellent instruction, engaging social activities, and a robust campus environment—was front and center as he addressed the audience. "The students at Farmingdale are a remarkable group," he said. "The vast majority of our students work to help pay for their education. Nearly 200 of them are veterans of our armed forces and over 40 percent are the first generation of their family to attend college. They are engaged and studious. They represent this college extraordinarily well. And they make this a better place."
Dr. Nader also paid homage to the faculty for their outstanding work and, thinking globally, to the critical role higher education plays in improving the lives of those who earn a degree, and those in the regional businesses and communities who benefit from the presence of Farmingdale's resources.
"We are living in an era when those institutions—particularly public colleges and universities—are often underappreciated, undervalued and, in some states, even under attack," he said. "This is happening when the importance of colleges and universities has never been greater and when many of these institutions are literally transforming the lives of an increasingly diverse array of students. We should be proud of that."
I am, by nature, an optimistic person, I like to see possibilities, what can be achieved. - Dr. John S. Nader, President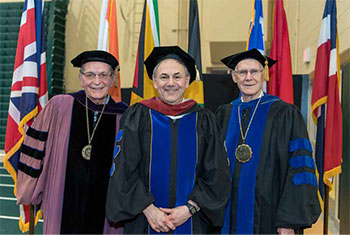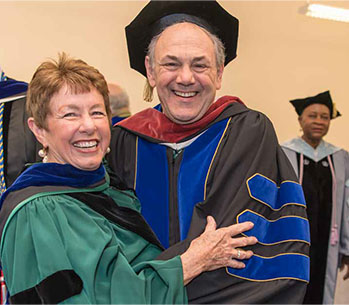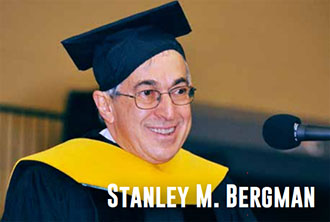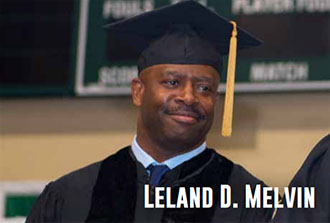 Our Honor, and Theirs
Two Honorary Doctor of Science degrees were awarded at the May 2017 Commencement ceremonies: to Stanley Bergman, CEO of Henry Schein, Inc., one of the world's largest providers of oral and health care products and services to office-based practitioners, and to former astronaut and STEM education advocate Leland Melvin.
Stanley Bergman leads Henry Schein with more than 21,000 employees, and operations and affiliates in 33 countries. Fortune magazine has named Henry Schein one of the World's Most Admired companies, and the firm has been recognized by the Ethisphere Institute since 2012 as one of the World's Most Ethical Companies.
Mr. Bergman serves as a board member or adviser for numerous institutions, including New York University College of Dentistry; the University of Pennsylvania's School of Dental Medicine; the Columbia University Medical Center; Hebrew University; Tel Aviv University, and the University of Witwatersrand, his alma mater, in Johannesburg, South Africa.
Leland Melvin began his distinguished career in 1989, when he joined NASA as an aerospace research engineer, and in 1998 he entered the astronaut corps, where he served as a mission specialist in two Atlantis space shuttle missions to the International Space Station. In 2010 he was named NASA's associate administrator for education, traveling the country and inspiring interest among students and teachers in science, technology, engineering and mathematics (STEM). In that role, he was the keynote speaker at Farmingdale's first STEM Diversity Summit in 2011.
He was also the United States representative on the International Space Education Board, a global collaboration in space education between NASA and other space agencies around the world. For his work at NASA, and a lifetime of advocacy on behalf of STEM education, he holds 10 awards from the space agency and four honorary doctorates. His book, Chasing Space: An Astronaut's Story of Grit, Grace, and Second Chances (Amistad), was published in 2017.