Looking Forward
Electricity is in the air—and in a new partnership with automaker Tesla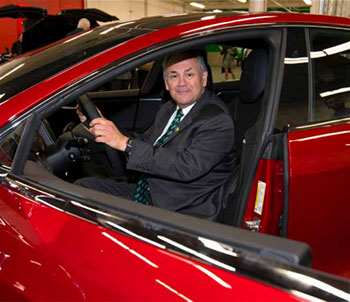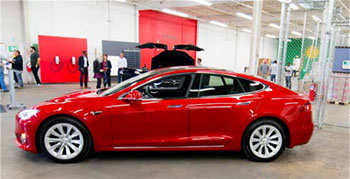 Tesla is one of the world's foremost manufacturers of electric automobiles. Now they're making careers for Automotive Technology and Automotive Management Technology students as part of a new partnership with the College.
It's what Tesla calls its "classroom-to-job-pipeline." And the program is, well, accelerating.
"Tesla is working with schools that have strong automotive programs," the company said in announcing the program. "It is important that we build a strong pipeline of local talent excited by our mission."
Internships—long a cornerstone of Farmingdale's curriculum as a college of applied science and technology—will place students in Tesla's Long Island service center while completing their studies.
Interns will go through a training regimen of online classes and shadow one of Tesla's senior technicians. They will learn safety practices, followed by education on components and features of the vehicles.
Once a student has graduated from FSC, and with a recommendation from a Tesla manager, he or she would be on the fast track to interview for a full-time job at one of the hottest and most visionary companies in America.
---
Students Get Key Experience in New Applied Learning Initiative
The Nexus Center is FSC's robust new initiative in applied learning. Since Farmingdale welcomed its first students in 1916, it has been renowned for providing hands-on experience—first in agriculture and today in technology programs. Now all experiences in the workplace, from internships to clinical rotations to undergraduate and graduate research and all kinds of hands-on learning, are being consolidated into one campus unit called the Nexus Center for Applied Learning and Career Development.
The Nexus Center will be located in newly-renovated space in Greenley Hall and bring together the various elements of career pursuit. FSC students totaled 3,478 placements in internships and other experiential learning last year, and within a few years 100 percent of the student body will be required to have an applied learning experience.
"Farmingdale is going to be in the forefront of applied learning in SUNY and throughout the state," said Dr. Rena Varghese, the Executive Director of the Nexus Center. "Our students will have amazing applied learning opportunities that are monitored and assessed so we know that what they are doing will be an asset as they look for employment."
About 89 percent of the May 2016 graduates were employed within six months of graduation, with many of them securing their jobs even before they received their diplomas. So Farmingdale's excellent history of applied learning is literally paying off.
Visit farmingdale.edu/nexus
for more information.