Alumni Spotlight
A Family Affair
Scholarship Support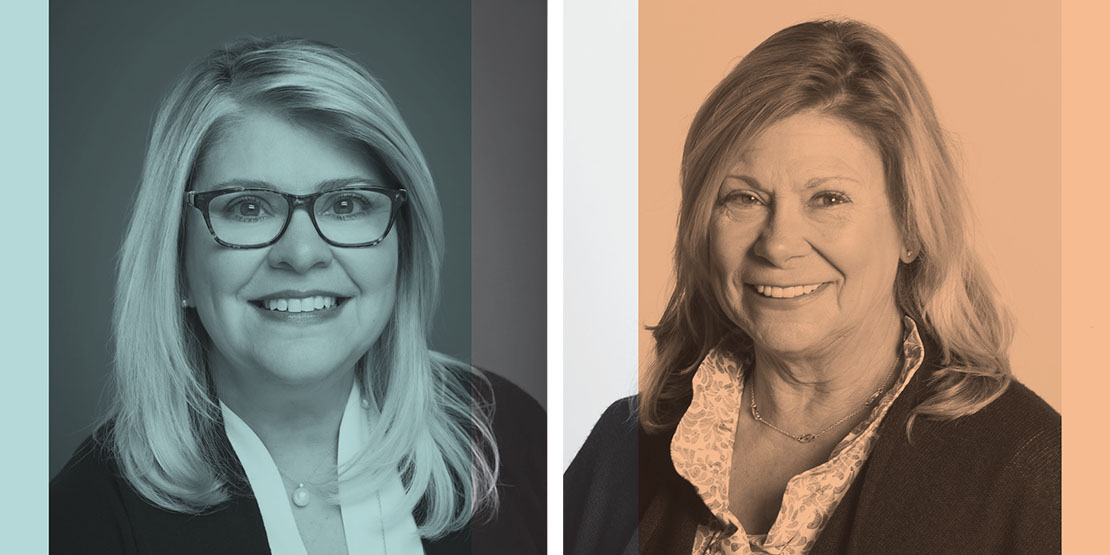 A connection to Farmingdale. A connection to the SUNY Chancellor. A connection to emerging technologies. The wildly successful careers of sisters Patricia Panetta and Elizabeth Hackenson are built on connecting with people and innovation.
So when Dr. Kristina Johnson was named SUNY Chancellor in 2018, she invited President Nader to accompany her to an event in Washington, DC where she wanted to introduce him to an FSC graduate she knew. That was Elizabeth.
The two had met when the Chancellor was a board member of a company where Hackenson once worked. They shared a mutual respect and interest in emerging technologies.
From that meeting a relationship was formed that is now supporting a Farmingdale student with a scholarship, an effort of great interest to Hackenson (Secretarial Science, '84) and Panetta (Early Childhood, '80). They are both Farmingdale alumnae, and Panetta has a son who also attended the College. Panetta, herself, still lives in Farmingdale. As a result, the Mary Panetta Scholarship Fund which honors their grandmother provides funding for women returning to complete a degree at Farmingdale.
The sisters have a great interest in education and technology. In fact, Panetta is a member of the Farmingdale Foundation board. She is a curriculum writer and peer counselor at the New York City Department of Education, and an adjunct professor at three universities. Hackenson has served as chief information officer of multiple top-level companies and is a member of the CIO Hall of Fame. She is now CIO of Schneider Electric in Boston, a global specialist in energy management and automation with operations in more than 100 countries.
"This goes back to our own struggles to pay for college as well as ancillary needs," Hackenson says. "I guess we felt if we could help someone like a single, working mom it was the right thing to do." They are doing so with the scholarship that honors their grandmother who inspired them with hard work and a desire to succeed.
Our grandmother Mary came from Italy with no money. She raised seven children. Only two of them were able to go to college because that is what the family could afford. So Elizabeth and I knew of that story. We didn't have a lot of money ourselves growing up and came to Farmingdale because of the low tuition. I feel like we are giving back and maybe helping a single mom who wants a college education.
The evolution of Farmingdale from an agricultural institute into SUNY's largest college of applied science and technology further persuaded the sisters that investing in students was a wise choice. Hackenson remembers pigs roaming the grounds, but when she returned recently, "I didn't even recognize the campus. I'm very impressed by the growth and expansion and the high-tech buildings."
And Panetta says, "I miss the cows. But seriously, I am so impressed with the obvious growth and prosperity of the College."
"The chancellor was very effusive about what a quality person Elizabeth is, and it took me about five seconds to realize how true that was. We hit it off immediately. I was really impressed by how positively she spoke about her experience at Farmingdale."
- President Nader