Faculty Profile
Going for a Joyride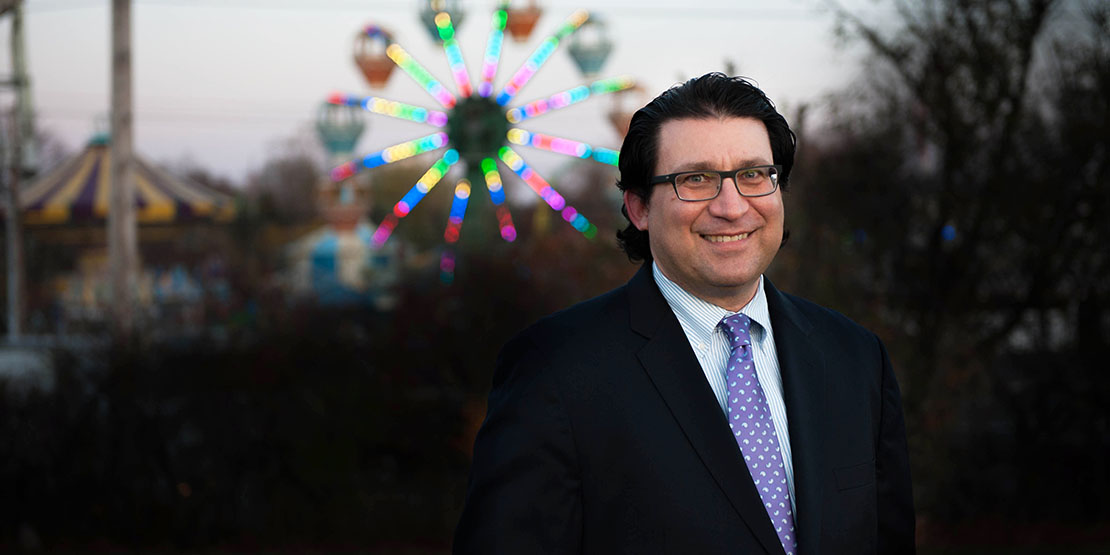 No, not as a Farmingdale State College professor of business management, but as a member of what he calls the "World of Roller Coaster Geekdom." Lewison is a roller coaster aficionado and he's known worldwide in the amusement industry because of it—the "Cyclone" of experts, if you will.
His expertise has been sought out by such publications and media outlets as the LA Times, Washington Post, Orlando Sentinel, and Sirius XM, who are fascinated by an obsession which began when his sister took him to the now-defunct Palisades Amusement Park in New Jersey when he was just four years old. That visit was followed by trips to Coney Island, Great Adventure, the now-closed Rye Playland, and others. And the more parks he visited, the greater his appetite for the rides, fun houses, and sideshows grew.
"I loved these visits," he says," but visiting an amusement park was not as frequent an activity in my family as I would have preferred."
However, his passion went, uh, off the rails during high school, and even more so as he began a career. But behind every theme park geek is a woman; in this case Cheryl, his wife, who herself loved theme parks.
Says Lewison: "We picked it up again together, but we went a lot crazier than either of us could have imagined."
So crazy that, from 2009 to 2018, the Lewisons had visited more than 700 parks, from New Jersey to New Zealand, and from China to California – with Vietnam and the United Arab Emirates thrown in for good measure.
As a result of his journeys, he has been quoted by reporters from nearly as many countries as he has visited. His unexpected media exposure began when he gave a presentation on theme park pricing at a theme park expo in Orlando. A local reporter interviewed him – and as a bonus mentioned FSC.
That was followed by a call from the Los Angeles Times, whose reporters still rely on Lewison for angles on theme park stories.
"There are an awful lot of theme park experts out there, but news writers also like to get an academic view, and there aren't many professors who focus on the theme park industry," he says.
He teaches a course on theme parks and tourism, in addition to classes on strategy, international marketing, and business history. The theme parks class is often full and he is more than happy to share with his students the number of roller coasters he has ridden throughout the world—an amazing 1,800 and counting—and the strict criteria by which he judges them.
"I keep it very simple: is it fun?" he says. "Are there negative g-forces? I'm not a huge fan of loops or positive g-forces. And that's about it. I like big drops and the feeling of leaving your seat. Bonus points for smooth rides—poor design and lack of maintenance are not fun. Great theming, unusual elements, cool settings—such as in a forest, or on a mountaintop, height, speed, and the like."
Two stand out for him: "My current favorite steel coaster is 'Leviathan' at Canada's Wonderland, outside Toronto, and my current favorite wood coaster is 'Phoenix,'" at Knoebel's in Elysburg, PA.
"Leviathan is just big and fast and fun, and I love it. Phoenix has insane pops of ejector airtime, and it's a historic ride in one of the best amusement parks in the world."
When he's not riding a roller coaster, Lewison is eating his favorite theme park food, Dippin' Dots. In fact, he has more than 225 photos of the confection taken around the world. He also has 75,000 theme park photos which are posted on Flickr.
After all this time, it's a hobby he still loves—even with all the ups and downs.
Dr. Lewison's
Top Roller Coasters
Steel
Leviathan
Canada's Wonderland
Ontario, Canada
Steel Eel
SeaWorld San Antonio
Texas
Steel Vengeance
Cedar Point
Ohio
Wood
Phoenix
Knoebel's
Pennsylvania
El Toro
Six Flags
Great Adventure
New Jersey
Lightning Rod
Dollywood
Tennessee