Alumni Spotlight
Meet Seven Young Alumni
Making a Difference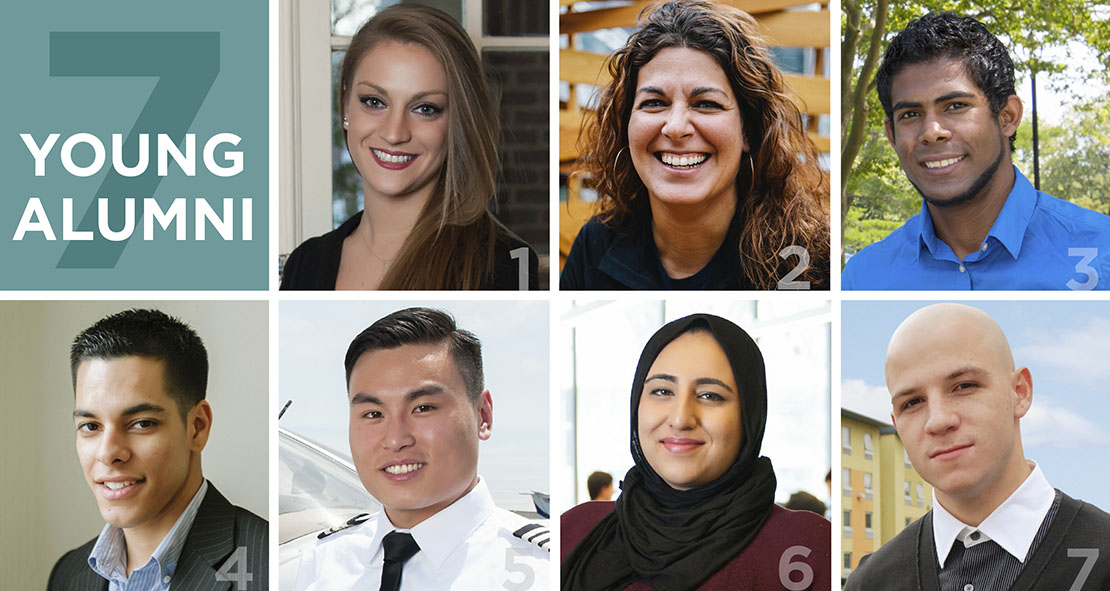 1Erica Alter (Criminal Justice and Law Enforcement Technology, '16) is studying law at the Maurice A. Deane School of Law at Hofstra University. She also completed an externship at Queens Criminal Court and an internship at Federal District Court for the Eastern District of Long Island. She works at the Law Offices of Mark E. Alter, her father. "My time at FSC was one of the best times of my life, spent with amazing people," Alter says. "The public speaking and leadership skills I learned through the student organizations I was a part of have helped tremendously in the pursuit of my goals."
2Cecilia Ambros (BT in Visual Communications, '04) is head of Creative Studios, at Amazon Advertising, North America. Leveraging her background in creative, product and UX, she builds innovation strategies and develops multi-discipline design teams. She led Global Design as a studio director at Nike, Inc. (NFL, Men's Training and Global Football). "I consider friends I have at Farmingdale like family, their impact on my life has been incredible. I'm in their debt and eternally grateful," Ambros relayed.
3Wagner Esteban Cepeda Aquino (degrees in Computer Programming and Information Systems, and Telecommunications Technology, '17) went directly from Farmingdale State College to Silicon Valley, where he was hired as an information technology resident at Google.
4David Dávila (Professional Communications, '13) won a Fulbright Scholarship and taught English to students in Argentina. Now living in Barbados, he and his wife have launched their own coffee business called Dávila Kafe and hope to open their first location on Long Island in 2020. They have also created a scholarship to help first-generation/immigrant high school seniors pursue college degrees. And he is a co-founder of the Dávila Dream Foundation, empowering young leaders in Nicaragua and the U.S. through education. "Farmingdale has blessed me in many ways," says Dávila.
5Abraham Im (Aviation: Professional Pilot, '15) was valedictorian of his class. Now assistant chief flight instructor at the College's Aviation Center, he was also lead pilot of the FSC contingent at the 2016 and 2017 Jones Beach air shows. "Farmingdale has given me opportunities as a student and employee that I would not have had if I had flight-trained elsewhere," he says. "The College has always challenged me to make the best choices I can, and do the best I can. It has continuously motivated me to better myself."
6Hajera Siddiq (Science, Technology & Society, '14) is a government liaison at United Health Care. A Horace and Amy Hagedorn Fund scholarship winner while at FSC, she worked for three years at the Clinton Foundation after graduating, moved on to do research at Yale, and then became a consultant to the Obama Foundation.
7Roman Titov (Construction Management Engineering Technology and Architectural Technology, '09) is project manager for Brooklyn-based Perfetto Contracting Co., Inc. Titov was a Fulbright Scholar who went from Farmingdale to the University of Calgary, where he earned a Master of Science in Civil Engineering. In 2016, he earned a degree in City and Regional Planning from Rutgers University. "When I was attending Farmingdale the motto was 'Dream Big,'" Titov says. "I have found inspiration in those two words throughout my life, and I continue to do so."