Farmingdale State College
Meet the Women of Engineering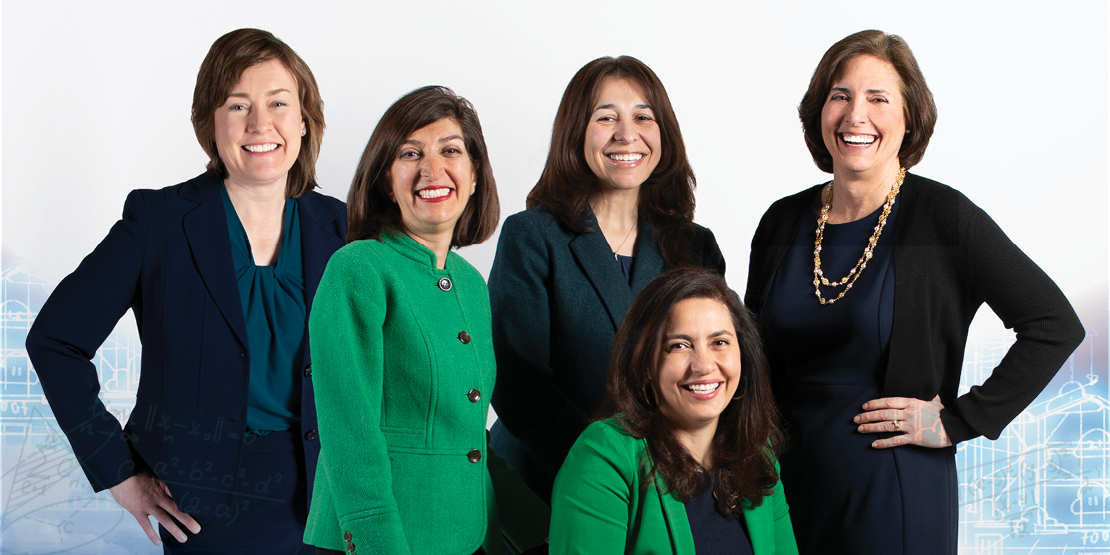 A Dean and five other women in leadership positions in the School of Engineering Technology—teaching and working in a variety of academic disciplines—set FSC apart from many other institutions. Opportunities for women in STEM fields are nothing new at SUNY's largest College of Technology and Applied Science.
Professor Marjaneh Issapour is director of FSC's Renewable Energy and Sustainability Center, and teaches in the Department of Electrical/Computer Engineering Technology. She is a winner of SUNY's Chancellor's Award for Excellence in Teaching, and received the R.W. Chasman Award for Women in Science from Brookhaven National Laboratory. In 2018 Issapour was awarded a $791,000 SUNY grant, the largest grant of its kind ever awarded to a state institution.
Assistant Professor Gonca Altuger-Genc, PhD, joined the Department of Mechanical Engineering Technology in 2013. In addition to her teaching responsibilities, she serves as graduate program coordinator for the MS in Technology Management. Altuger-Genc has co-authored journal publications and presented in international, national, and regional conferences. She earned the Farmingdale College Foundation Award for Excellence in Teaching in 2018.
Associate Professor Bahar Zoghi, PhD, teaches in the Architecture and Construction Management Department and is acting assistant dean of the School of Engineering Technology. She is involved in efforts to increase the number of females in STEM fields, sits on the College's Science, Technology, Engineering and Mathematics roundtable, and has been a judge and now coordinates FSC's annual STEM Diversity Summit. She is a professional engineer with 10 years experience in the private sector.
Associate Professor Jeanne Radigan, EdD, is chair of the Aviation Department and an associate professor. She is also an alumna of Farmingdale, having earned an AAS degree in Aerospace Technology. She holds an EdD from Dowling College, an MBA from Adelphi University, and a BBA from the University of North Dakota. She previously held numerous positions at Northwest Airlines and was a senior financial analyst at Chase Manhattan Bank.
Associate Professor Orla Smyth LoPiccolo is chair of the Department of Architecture and Construction Management and a registered architect. She has over 10 years of public sector experience as an architect and a community development project supervisor. Her students have completed service learning projects with the Town of Brookhaven and the Town of Islip, preparing construction drawings and measuring buildings in preparation for renovations. In 2018 she received the Chancellor's Award for Excellence in Teaching.