Alumni Spotlight
Giving Back in a Big Way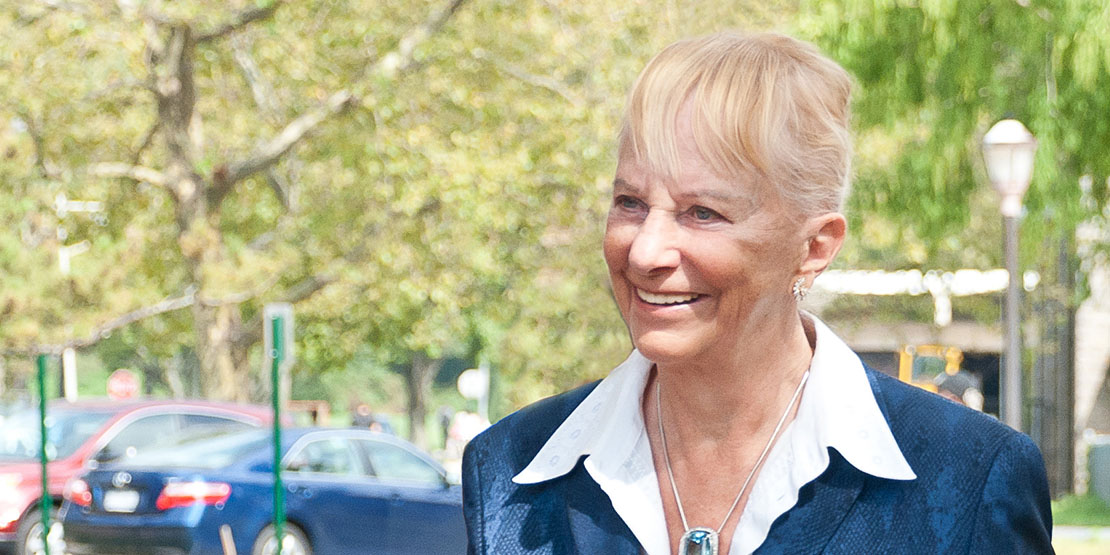 Theresa Santmann's connection to Farmingdale is both long and deep. Student. Foundation board member. Philanthropist. And her passion for the College is exceeded only by her generosity.
"Farmingdale provided me with an excellent education and helped shape my success in the health care industry," Santmann says. "I continue to be amazed at the transformation that has taken place over the last few years."
Santmann received a nursing degree from Farmingdale in 1969, propelling her into the health care industry and, eventually, into her role as the founder and operator of a nursing home. She even invented and patented a walker with a folding, pivoting seat. She has been a member of the Farmingdale Foundation board since 2004 and funded scholarships for underrepresented students and nursing faculty, as well as landscaping projects, design projects, and a 9/11 memorial.
And in 2011, Santmann donated the largest gift in Farmingdale's history—$1 million to support the nursing and bioscience programs—and in turn was honored by the College with the naming of the Theresa Patnode Santmann School of Health Sciences. For her work at Farmingdale and in local communities, she has been honored as Alumna of the Year, a March of Dimes Woman of Distinction, and was an inductee into the Long Island Business News Hall of Fame.
Her extraordinary journey began as one of 12 children on an upstate New York farm. Her career as an entrepreneur after losing her husband to Lou Gehrig's disease is beautifully chronicled in her autobiography In Gratitude to My Guardian Angel. The title is apt, especially because Santmann has been an angel for so many worthy causes.
For instance, she designed and built a respite care center for the Suffolk County Girl Scouts, named "In Katie's Care" for her granddaughter. She sponsored 35 students at St. Luke's School in the Bronx, funded a Rotary Peace Conference on conflict resolution, and donated over 11,000 children's books to Long Island Cares.
"Theresa is a remarkable individual," President Nader says. "She was a pioneer in the health care industry at a time when there were not a lot of women entrepreneurs. She has a strong commitment to helping those who need assistance in acquiring a college education. She loves Farmingdale, and her passion can be seen in so many of the students and projects she has supported."
Farmingdale provided me with an excellent education and helped shape my success in the healthcare industry.