Farmingdale State College
Remembering Scott Beigel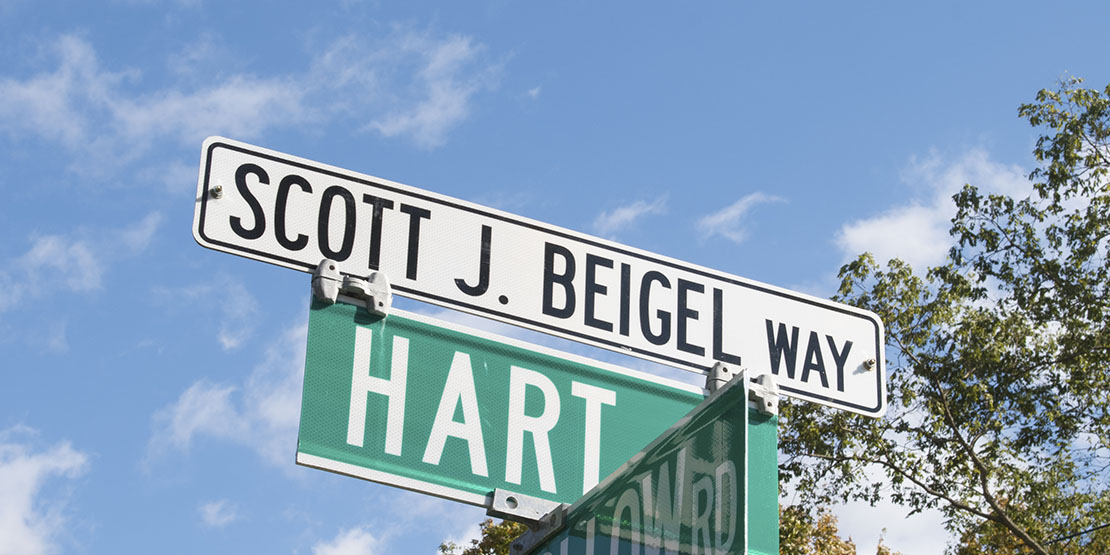 Scott Beigel gave more than just his time to his students. Sadly, he gave his life.
Beigel was a geography teacher at Marjory Stoneman Douglas High School in Parkland, Florida— Parkland, as the tragic events of February 14, 2018 are now called. The 2009 graduate of Farmingdale had just safely guided students into a classroom when, turning to lock the door, he was shot and killed by the lone gunman. His act of heroism has not been forgotten.
Beigel (BS Technology Studies, '09) was one of three Parkland coaches—he led the cross country team—who were honored with a Best Coach Award at the annual ESPY Gala presented by the ESPN network. In August, the street in Dix Hills, Long Island where Beigel grew up—Hart Place—was renamed and dedicated Scott J. Beigel Way in his honor. The ceremony attracted family, friends, and local and state dignitaries, including Lieutenant Governor Kathy Hochul.
The Lieutenant Governor used the occasion to praise the anti-gun violence campaign that spread across the U.S. following the Parkland shooting—including a March for Our Lives rally held in Nold Hall that drew more than 2,000 parents and children to the event.
"Someday when someone says, 'Why is this street named after Scott Beigel?' there will be a powerful story to tell about a movement that started with his death and the deaths of young people who did nothing more than show up for school one day," Hochul said.
By all accounts, Beigel was a dedicated teacher, outstanding coach, and an excellent role model. But those descriptions don't begin to compare with the one that will follow him eternally:
Hero.