Student Spotlight
Kaitlyn Kallansrude '19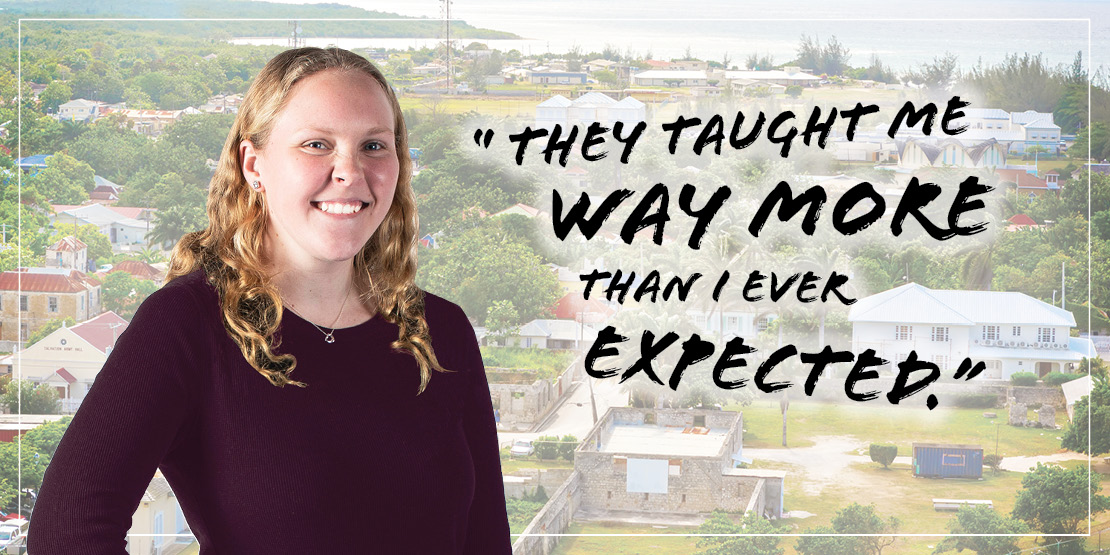 A single encounter can transform the course of a lifetime. For Kaitlyn Kallansrude (Professional Communications '19) an extraordinary applied learning experience not only changed her life, but also the lives of 20 eager children she came to know in a modest school building located in an impoverished neighborhood on the island of Jamaica.
Kallansrude was in the Caribbean nation for 11 days as part of the Jamaica Field Service Project. This particular program sends students to the island to do volunteer work in communities, schools, and child care centers. Kallansrude was placed in Fullerswood Primary School in Saint Elizabeth, located in the southwest region of Jamaica and containing a rich mixture of cultures including Dutch, Spanish, Indian, English, and European descendants.
One thread that bound nearly all the diverse people of the region, though, was this: abject poverty that made a lasting impression on Kallansrude.
"If I had to describe my Jamaica trip in just one word, the word I would use is 'unforgettable.' The entire trip was incredible," she says. "It was truly a humbling and profound experience. I will cherish everything I learned in Jamaica forever."
Kallansrude had always wanted to investigate the study abroad opportunities available to Farmingdale students. But it was only after her older sister, Kimberly, told Kallansrude about her own life-altering experience in Brazil that she intensified her search. Kallansrude was convinced when she learned about the Jamaica program, which is administered through SUNY Potsdam.
Strangely enough, her career path is not teaching. Instead, she wants to work in human resources or public relations. But growing up in a tightly knit family that taught the value of helping others, Kallansrude's desire to do just that was a natural choice.
"I was raised to always be kind and do well for others," she says. "I've always loved the idea of volunteering and giving back. Volunteering just makes me feel good as a person, especially when you see the impact you've made on the lives you helped out."
Wanting to work with children was also a value instilled at home by her mother, Susan, a nursery school teacher.
"I always had a passion for working with kids, and I definitely get that from my mom. My mom has been working with children for the past 27 years. I just have the patience and ability to really connect with children. It is almost like they are drawn to me and look up to me."