Faculty Profile
Bringing the World to Farmingdale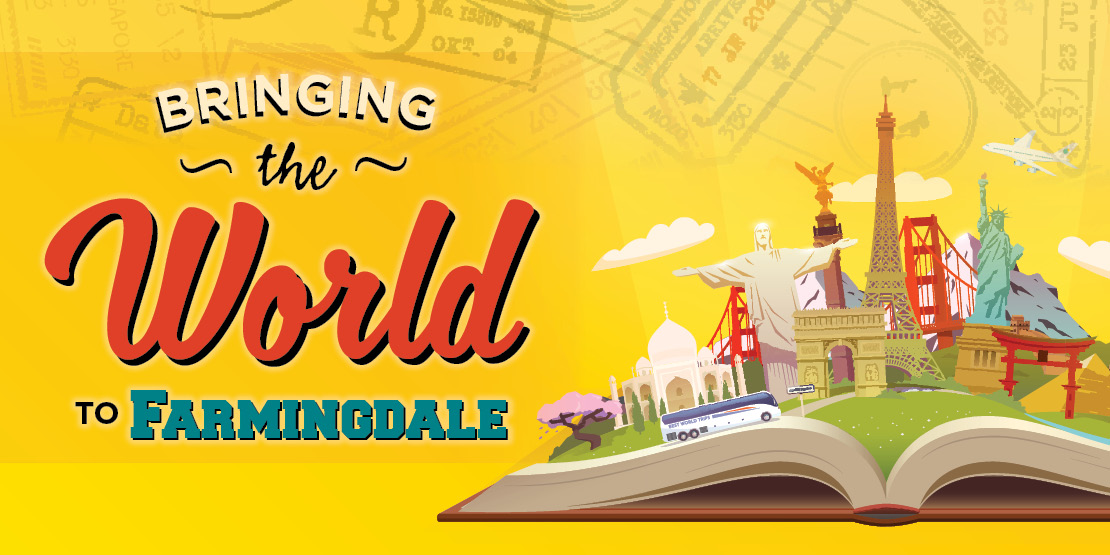 "The opportunity to live and work cross-continentally is a gift,"
says Andrea Thomas, FSC's new leader of International Education and Study Abroad programs. It turns out it didn't take a trip around the globe to locate the right person for the job. All it took was a journey across campus.
Thomas was director of community engagement and deputy title IX coordinator, managing grant-funded programs and expanding the College's public service mission. But her numerous and varied experiences across five continents made her an easy and logical choice for her new responsibilities last summer. Who better to build strategic partnerships with international universities and manage overseas educational opportunities for students than someone who has literally been around the world?
"With firm appreciation for learning and teaching methods, I decided that if I could spend time developing minds around the globe, it would be a good idea for me to spend time providing these same opportunities to communities in the U.S.," she says. "I believe a career in diversity, equity, and inclusion is the catalyst to combine these global experiences to strengthen community and create a bridge to International Education and Programs."
Thomas has worked in North and South America, Southern Africa, Central America, Eastern Europe, Asia, the Middle East, and the Pacific Rim for such recognized organizations as USAID, the United Nations Development Program, the
American Councils for Education, and the U.S. Embassy in Kyrgyzstan—the hardscrabble Central Asian country bordering China. She is also a U.S. State Department alumna and returned Peace Corps volunteer. In 2014, she was invited by his royal highness, Prince Feisal Al Hussein of Jordan to speak as an expert panelist on volunteer retention strategy at the Generations for Peace Institute in Amman, Jordan.
Those unique experiences have provided a valuable insight into different cultures and behaviors that Thomas believes will serve her well as she attempts to build the population of international and first-generation students. Already, the College has students from more than 70 countries, from Azerbaijan to Zambia.
"It is inspiring to work with youth from around the globe, living so as to affect change, and to observe different strategies, learning, teaching, and administrative practices of institutions outside the U.S.," Thomas says.
Her total of nearly eight years living in six nations includes facilitating peer-to-peer exchanges between foreign agencies and the U.S., coordinating more than 10 youth exchange programs, and involvement in numerous initiatives related to diversity and inclusion with international organizations such as UNICEF and the Peace Corps.
"It was a warm accomplishment to experience this success after working with dedicated young people and staff," she says.
Farmingdale is a more familiar environment, but one in which Thomas still sees opportunities to enrich with diverse cultures and traditions.
In short, she's out to make a world of difference.
Andrea Thomas
"It is inspiring to work with youth from around the globe."